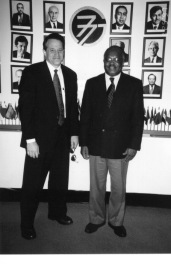 Mr. Bill Sims (left), Executive Director of the Together Foundation, with Ambassador Daudi N. Mwakawago (right), Chairman of the Group of 77, meeting at the Office of the Chairman of the Group of 77 in the United Nations.
Group of 77 goes online
New York, 15 June 1997 (G-77) - In a partnership arrangement with the Together Foundation, the Group of 77 has began operating its own Web site on the Internet (http://www.g77.org). The Office of the Chairman of the Group of 77 in New York will maintain the homepage and update its contents on a regular basis.
The immediate objective of this undertaking is to take advantage of the opportunities offered by the Internet to make available general information consisting of official documents such as statements, position papers, the G-77 bulletin, as well as other public information materials. Ultimately the objective is for the public Web site to evolve into an Intranet as this medium matures and is adopted by Member States to meet their electronic communication needs.
The impetus for this initiative originated in a directive from the Special Ministerial Meeting of the Group of 77 commemorating the thirtieth anniversary of the Group of 77 held in New York in June 1994. In this regard, the Foreign Ministers recommended renewed steps to enhance information exchange and communication among the Chapters of the Group of 77 located at various United Nations centres including through online and other electronic networking facilities.
The G-77 Web site constitutes a further step towards the enhancement of information flows and communications not only among the Chapters of the Group but also to the media and the general public. The homepage contains relevant information relating to development issues being discussed at the headquarters of various United Nations agencies, programmes and bodies where the G-77 Chapters are located, namely New York, Geneva, Paris, Rome, Nairobi, Vienna and Washington, D.C. (G-24).