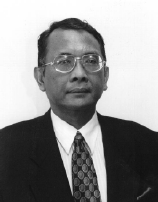 H.E. Dr. Makarim Wibisono
Permanent Representative of Indonesia to the United Nations
and Chairman of the Group of 77 for 1998
Indonesia elected to chair the Group of 77 in 1998
The twenty-first Annual Ministerial Meeting of the Group of 77, held at UN headquarters in New York on 26 September 1997, decided by acclamation to elect Indonesia as the next Chair of the Group of 77. Indonesia will take over the chairmanship from 1 January 1998 for a period of one year. This marks the first time that Indonesia takes the helm of the Group of 77, being the 28th presiding country of the Group of 77 in New York.
The Chairman of the Group of 77 for 1998, His Excellency Dr. Makarim Wibisono, was sworn in as the Republic of Indonesia's Ambassador Extraordinary and Plenipotentiary, Permanent Representative to the United Nations by the President of the Republic of Indonesia on July 16, 1997. Concurrently, he has been designated as Ambassador Extraordinary and Plenipotentiary to four other countries, namely Jamaica, Nicaragua, Guatemala and the Commonwealth of the Bahamas. H.E. Dr. Makarim Wibisono, who presented his credentials to the United Nations Secretary-General, H.E. Mr. Kofi Annan, on August 6, 1997, replaced H.E. Mr. Nugroho Wisnumurti who had served the office since September 1992.
Prior to becoming the Permanent Representative, H.E. Dr. Makarim Wibisono, served as Ambassador, Deputy Permanent Representative of the Republic of Indonesia to the United Nations in New York (1994-1997). During that time he also served as the Deputy Head of the Indonesian Delegation to the UN Security Council (1995-1996). Prior to that appointment, Dr. Wibisono served as the Director for Multilateral Economic Cooperation in the Department of Foreign Affairs from 1993 to 1994. As a career diplomat, he joined the Department of Foreign Affairs of the Republic of Indonesia in 1972 and served in Indonesian diplomatic missions in Brazil (1977-1981), Washington (1988-1991) and New York (1991-1993). Before joining the Foreign Service, Dr. Makarim Wibisono was the Editor of the Express New Magazine (1970-1972).
Ambassador Makarim Wibisono graduated with a Bachelor of Arts Degree in International Relations from Gadjahmada University, Indonesia, in 1970 and received a Masters Degree from the School of Advanced International Studies, John Hopkins University, Washington, D.C., in 1984. In 1986 and 1987, he was awarded his Masters and Doctorate Degree in Political Economy from Ohio State University, Columbus, Ohio. Ambassador Makarim Wibisono is married and has three children.